Heather A Worrell, EA   
Enrolled Agent, Tax Professional, Dave Ramsey's ELP
A Tax Haven provides professional services for all of your tax and financial needs. Heather Worrell, owner, has been active in the tax industry since 1988. She is an Enrolled Agent and can represent taxpayers before the IRS. She is also Dave Ramsey's Endorsed Local Provider (ELP). She believes in going the extra mile for her clients and is committed to doing any additional research necessary to benefit her clients.
A Tax Haven's goal is to help you keep your hard-earned money in your own pocket.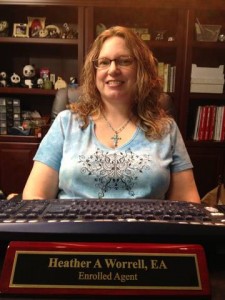 A Tax Haven offers year-round services for both individuals and businesses:
* Tax Preparation for current and prior years
* Multiple State Returns
* Bookkeeping
* Payroll
* Sales Tax Filing
* Monthly and Quarterly Business Filings
* Setup for New Businesses including LLCs and Corporations
* W-2 and 1099 Preparation and Filing
* Audit Representation
* Assistance with Tax Issues
* Financial Services including Budgeting and Financial Planning
A Tax Haven specializes in self-employment, job-related travel expenses, rentals, and tax returns in the trucking, construction, and seaman industries.